Cooking at Home
Sharing some "MY WAY" Recipes
FYI; This blog post is on carving that Turkey and also sharing My Review on which you should try if you haven't done so already. But let's go to how to cut that Turkey first. Lol
Allow your cooked turkey to rest for about 20 minutes before carving.
Slice straight down with an even stroke starting halfway up the breast.
The slice should fall easy on its own when the knife reaches the cut above the wing joint.
Continue slicing breast meat by beginning the cut at a higher point each time.
TIP – The carving process always starts with the utensils. Carve your turkey with a sharpened straightedge knife and carving fork.
The Best Chef's knife
Save Up to 50% OFF on Knives at Sur La Table!
This is the most often used all-purpose knife. It's great for slicing, dicing, mincing, and chopping. It's great for major chopping chores because of its broad blade, symmetrical sides, and sharp tip. The blade's form enables faster, more efficient movement and less fatigue in the hand. For easy, effective cuts, use a rocking motion that follows the contour of the blade.
Use your chef's knife to slice veggies for soups, stuffings, salads, and these delicious Thanksgiving recipes.
Save Up to 50% OFF on Knives at Sur La Table!
Where should you order your Turkey from? PERDUE FARMS!
Food delivery services are new to me. I've tried a few over the Pandemic, and I'm sure many of us did.
Getting my groceries delivered or picked up online, I'm going to admit I'm hooked!

So, when I decided to try Perdue farms, I found myself NOT wanting to purchase meats from the Supermarket ever again, not knowing if it's fresh or not.
We want The Best for Ourselves and our loved ones.
I'm excited to share with you my review on this post about "Perdue Farms" because if you're seeking a simple solution to keep your freezer filled, you've just discovered it.
Have you tried CROWD COW? If you haven't please do! Besides the other fresh food markets I mentioned CROWD COW is loaded with fresh meats from local farms. I'm also hooked on them.

 "Arroz con Pollo"
1/4 cup oil (CANOLA , OLIVE or Avocado) some use Vegetable oil –  whatever your preference       
1 entire chicken (4 to 6 pounds) chopped into pieces
1 chopped onion Red, Yellow or White
1 chopped green bell pepper
2 Tsp. of Paprika (if you enjoy it with a slight kick) or Ground annatto
2 garlic cloves minced or mashed
1 can (14.5 oz.) stewed tomatoes 
1 pound rice
2 tsp. salt (or to taste)
1 teaspoon oregano, dry
1 teaspoon Cumin
1/2 teaspoon black pepper, ground
1 leaf of bay
2 cups chicken stock (or as much as you need to cover)
1 cup Frozen veggies (optional)
1/2 cup olives, sliced (optional)
1 cup Cilantro or Culantro plant (chopped)
MY WAY RECIPE
Easy peasy Instructions
Step 1
Start heating up the oil of "YOUR" choice over medium heat in a Dutch pot. (We call it "Caldero")
Step 2
Once you see that oil is hot, start slowly putting the chicken pieces in and cook until browned, 5 to 10 minutes. Remove the chicken with a slotted spoon (the one with holes so that you can drain all the juices from the chicken) and place it on a plate.
Step 3
In that  Dutch pot, start cooking the onion, green bell pepper, minced garlic, and whole garlic cloves until the onion is softened, about 5 minutes. If you are familiar with "Sofrito" add 2 or 3 of that deliciousness in there too. REMEMBER this recipe is about Doing it YOUR way!
Step 4
Bring 2 cups of the chicken stock to boil, stirring constantly. Toss in the olives and the chicken (skin-side up) in the pot. Cover the Dutch pot, decrease the heat to low, and cook for about 25 minutes, or until the chicken stock is absorbed, rice is soft, and chicken is cooked through.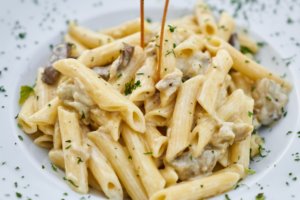 Chicken alfredo 
With this quick and easy recipe, I want you to keep in mind if you don't have an ingredient substitute with something similar. It's Ok! 
Remember these recipes are…
"MY WAY" … "YOUR WAY" …
These will be the ingredients you will need. 
1 box of FETTUCCINE PASTA
1 LB of Chicken Breast cut up in small pieces
1 Tablespoon Butter
2 tablespoons of Any Oil of your choice (I use Olive, Avocado)
1 Tablespoon of Whatever seasoning you want (I use various..Bruschetta, Italian)
3/4 Teaspoon Salt
1/4 Teaspoon Pepper
FOR THE YUMMY CREAMY SAUCE
2 Cups of Heavy Cream Or Half & Half … or Any Milk
1/2 Cup of Butter
3/4 Teaspoon of Garlic salt or Garlic Powder
1 Crushed Garlic
1/4 Teaspoon Salt
1/4 Black Pepper 
2 Cups of Parmesan Cheese 
INSTRUCTIONS 
1. Start boiling water in a large pot add salt to YOUR liking. Add the pasta cook for 8 to 10 minutes. When the pasta is ready drain well, but leave 1/2 cup or so of that water aside. The pasta water will thicken the sauce. 
Let's start cooking those Cut up Chicken Breast
2. Warm up the Oil, then add the chicken then add All the Seasonings (except the crushed garlic)  Cook the chicken until golden brown. I  do it this way because I want my chicken to start grabbing some flavor. 
3. Add the butter while stirring everything together then put the cooked chicken aside because now we will start making the yummy sauce.
4. In that same pan cook the crushed garlic in butter, once you start smelling that delicious garlic add the milk and stir until it thickens.
5. Add the parmesan cheese to the milk and continue stirring until it melts. If you are content with the milk texture leave it as is, if it is too thick for your liking, then add some of the water we put aside. 
6. Now let's put this delicious meal together or YOU can serve the pasta first then pour the sauce on top. 
Garnish it with some more Parmesan cheese, sprinkle a Lil bit of  Parsley, Oregano, or basil. 
STEAK KEBABS (SKEWERS)- ANOTHER MUST TRY "DO IT YOUR WAY" RECIPE
INGREDIENTS
1 LB OF TOP SIRLOIN STEAK (TRY CROWD COW MEATS) OR CHICKEN
ONIONS Any YOU prefer (cut into thick wedges)
PEPPERS (cut into thick squares)
1/4 Tsp OF FRESH GROUND PEPPER AND KOSHER SALT
1 Tsp  CUMIN
1 Tsp CHILI POWDER
1 Tsp PAPRIKA
2 Tsp OLIVE OIL
1/2 Tbsp MINCED GARLIC (optional)
SKEWERS (metal or wood)
These can be done on your griLL or oven. If you choose oven make sure to soak the wooden skewers in water. You can also skip the skewers. 

USE KITCHEN SHEARS AND CUT THE STEAK IN CUBES

SEASON THE STEAK LET IT MARINATE IN THE REFRIGERATOR. THE LONGER THIS STEAK MARINATES THE MORE FLAVOR IT WILL GRASP.
30 MINUTES BEFORE YOU START COOKINTHE G TURN ON OVEN IF YOU ARE PLACING IT IN THE OVEN IF NOT THEN START HEATING UP THE GRIDDLE.
START THREADING THEM WITH THE SKEWERS STEAK, PEPPER, ONION, STEAK, PEPPER, ONION
PLACE THEM ON YOUR GRILL OR OVEN. IF YOU'RE DOING THEM IN THE OVEN PLACE THEM ON A BAKING SHEET PAN, TURNING THEM EVERY 10 MINUTES.
IF YOU ARE DOING THEM ON A GRILL PREHEAT.
START PLACING THE SKEWERS 4 TO 5 MINUTES EACH SIDE.
REMOVE THE KEBABS AND SERVE IMMEDIATELY.
THIS CAN BE EATEN WITH SOME ITALIAN BREAD, GARLIC BREAD, GET CREATIVE WITH YOUR SIDES.
ENJOY THESE KEBABS YOUR WAY!!
Panorama produces organic beef on USDA-certified organic grasslands from start to finish!

MY WAY HOMESTYLE PANCAKES
First, let me tell you I LOVE  cakes or anything that is fluffy like a cake, and if you follow these simple steps your pancakes will come out Nice and Fluffy too. It took me a few tries to get them this good. So, It's time to share it…
2 cups KRUSTEAZ Buttermilk Pancake flour
1 Cup  or less of cold water
2 Spoons of Coconut oil (optional) I like it cause it makes the pancake taste good
1 Tsp of Cinnamon or more (depends how much you want)
1 Tsp Vanilla (I use Nielsen-Massey or McCormick)
1 Tsp Nutmeg
Any Butter you like for the griddle
DIRECTIONS

Start heating up Pancake Griddle (medium heat)
Step 2 

In a Mixing bowl start whisking together the flour and cold water, the coconut oil, the cinnamon, and nutmeg. Again… if you DON'T like these extras you don't need them. You can use ANY flavor extract YOU like. There's Lemon, Maple, many that are DEELISH !
(try not over mix, a few lumps are ok)
Step 3 
Let the batter sit for a good 5 to 10 minutes. I found this step to be the key to why they come out fluffy. I could be wrong. lol
Step 4
Pour batter slightly on griddle you choose how big you want them and how many each person is devouring.
Step 5 
COOK only 1 minute and 1/2 on each side and ONLY flip once if you want them fluffy. You will see top part with bubbles the bottom part is golden brown.
Step 6 
ENJOY !!!
If you can get your hands on DORSET MAPLE RESERVE Syrup…please do so. I highly recommend you to try their syrup.
P.S. If you happen to be in New York on Christmas time try to visit BRYANT PARK HOLIDAY SHOPS they usually have their Kiosk with ALL their delicious different flavors syrup.
SHRIMP WITH PASTA IN WINE GARLIC AND LEMON SAUCE
THIS RECIPE WAS TAUGHT TO ME SO I CAN'T TAKE CREDIT FOR IT. BUT…I HAVE TWEAKED IT A LIL HERE AND THERE AND SORT OF MADE IT MY OWN.
INGREDIENTS
1 BOX OF THIN SPAGHETTI, REGULAR SPAGHETTI, OR FETTUCCINI
2LBS OF SHRIMPS PEELED AND DEVEINED 
3 TABLESPOONS BUTTER
3 TABLESPOONS OF OLIVE OIL
4 GARLIC CLOVES CRUSHED
SALT AND PEPPER
2 TABLESPOONS OF DRIED PARSLEY
2 TABLESPOONS OF CHIL FLAKES (OPTIONAL)
2 TABLESPOONS OF LEMON JUICE
1/2 CUP OF WHITE COOKING WINE
1/2 CUP OF SEAFOOD BROTH
3 TEASPOONS OF FLOUR
1/2 TEASPOON ITALIAN SEASONING
DIRECTIONS
LET'S START BY BOILING WATER WITH GARLIC SALT
THEN GENTLY PUT THE PASTA IN THAT BOILING WATER 
NOW  LET'S START COOKING THE SHRIMP IN THE OIL AND BUTTER AND GARLIC BUT ONLY FOR 2 MINUTES IF YOU COOK THE SHRIMPS LONGER THEY GET HARD AND OVERCOOKED. NO BUENO.
TAKE THE SHRIMPS OUT AND PUT THEM ON A PLATE TO THE SIDE

IN THAT SAME PAN START PUTTING IN THE REST OF THE INGREDIENTS
ONCE THE BROTH IS COOKED WITH THE FLOUR YOU CAN PUT THE SHRIMPS BACK IN LOWER THE FLAME 
DRAIN PASTA AND MIX TOGETHER
YOU CAN GARNISH WITH CILANTRO (OPTIONAL)
ENJOY!!!

$25 off Caraway 12pc Cookware Sets
JUICY HOMEMADE BURGER 
Burgers are yummy who can resist a burger unless you are Vegan. If you love meats as I do then let's Make this DELICIOUS JUICY BURGER Recipe.
This homemade hamburger is made in less than 30 minutes. With or without the cheese. 
INGREDIENTS 
GROUND BEEF (80 LEAN 20 FAT)
BREADCRUMBS
EGG
WORCESTERSHIRE SAUCE
MILK
SALT, GARLIC POWDER, BLACK PEPPER, ONION POWDER , AND OR ANY OTHER SPICES YOU ENJOY
INSTRUCTIONS
IN A MIXING BOWL START ADDING THE GROUND BEEF, BREADCRUMBS, EGG, WORCESTERSHIRE SAUCE, MILK, AND SPICES.
THOROUGHLY COMBINE UNTIL THE MIXTURE IS SMOOTH
START FORMING YOUR PATTIE MAKE A DENT IN THE MIDDLE SO IT DOESN'T RISE UP WHILE COOKING.
START HEATING UP YOUR SKILLET MEDIUM HEAT.
I LOVE USING A CAST IRON SKILLET
$20 off Select Our Table 2QT Enamel Cast Iron Cookware
$25 off Caraway 12pc Cookware Sets
IF YOU WANT THE PATTIES THICK COOK 4 MINUTES ON EACH SIDE.
STACK YOUR BURGER WITH LETTUCE, TOMATOES, PICKLES, GRILLED ONIONS, MUSHROOMS, BBQ SAUCE THE OPTIONS ARE ENDLESS!
ENJOY !!!
Grass Fed Try "CROWD COW" Today
"I'm A full-time Amazon shopper, these are my favorite finds from the past year"